Las Chispas
The Las Chispas property is located approximately 180 kilometres northeast of Hermosillo, Sonora, Mexico. The community of Arizpe (estimated population 2,000) is located approximately 12 kilometres to the north of the property. The property consists of 28 concessions totalling 1400.96 hectares.
In September 2018, the Company announced an updated mineral resource estimation for the property:
SilverCrest's Las Chispas Resource Summary – September 2018
Resource Category(¹)
Tonnes
(M)
Au
gpt
Ag
gpt
AgEq(2
gpt
Contained
Au Ounces
Contained
Ag Ounces
Contained
AgEq(2) Ounces
February 2018 Resource
3.4
3.63
296.0
568
401,600
32,675,600
62,826,100
Includes*
1.0
7.43
469.0
1,026
231,000
14,581,000
32,247,000
September 2018 Resource
4.3
3.68
347.0
623
511,500
48,298,700
86,701,200
Includes**
1.6
6.97
568.5
1,091
359,900
29,343,600
56,333,400
Inferred Resource Summary By Vein – September 2018
Vein(6)
Tonnes
Au
gpt
Ag
gpt
AgEq(2)
gpt
Contained
Au Ounces
Contained
Ag Ounces
Contained
AgEq(2) Ounces
Babicanora(4)
1,931,200
5.06
447.2
826
314,100
27,763,700
51,318,800
Includes Area 51
1,116,800
7.13
613.8
1,148
256,000
22,040,000
41,238,100
Babicanora Norte
488,800
6.61
464.8
961
103,900
7,303,600
15,095,300
Granaditas
95,100
2.46
220.9
405
7,500
675,100
1,239,200
Las Chispas
171,000
2.39
340.0
520
13,000
1,869,500
2,861,000
Giovanni(4)(5)
686,600
1.47
238.7
349
32,500
5,269,000
7,699,800
William Tell(5)
595,000
1.32
185.0
284
25,000
3,543,000
5,438,000
Luigi
186,200
1.32
202.1
301
7,900
1,210,200
1,803,000
Historic Dumps(5)
174,500
1.38
119.0
222
7,600
664,600
1,246,100
Notes:
* Area 51 zone only in maiden resource.
**Combination of Area 51 zone and adjacent Babicanora Norte Vein resource estimation.
Conforms to NI 43-101, Companion Policy 43-101CP, and the Canadian Institution of Mining, Metallurgy and Petroleum ("CIM") Definition Standards on Mineral Resources and Mineral Reserves. Inferred Resources have been estimated from geological evidence and limited sampling and must be treated with a lower level of confidence than Measured and Indicated Resources.
AgEq based on 75 (Ag):1 (Au), calculated using long-term silver and gold prices of U.S.$18.50 per ounce silver and U.S.$1,225 per ounce gold with average metallurgical recoveries of 86.6% silver and 98.9% gold.
All numbers are rounded.
Babicanora resource includes the Babicanora Vein with Area 51 zone and Babicanora Footwall Vein. Giovanni resource includes the Gio-mini and the La Blanquita veins.
Resource estimations for the Las Chispas and William Tell veins and the historic dumps are unchanged from the Maiden Resource.
Vein resource is reported using a 150 gpt AgEq cut-off grade and minimum 1.5 m true width (approximate), and surface stockpile resource is reported using a 100 gpt AgEq cut-off.
Most notable, this update includes a 75% increase in high-grade AgEq ounces greater than 1,000 gpt from 32.2 million (Area 51 zone) to 56.3 million (revised Area 51 and Babicanora Norte Vein).
The resource estimate is focused on an estimated 5.5 kilometres of approximately 20 known kilometres of cumulative vein strike length in the district.
History
In 1640, rich silver veins where discovered near Arizpe by soldiers under the command of Pedro de Perra. The property did not receive any notable exploration or production until the late 1800s. From 1880 to 1930, several mines on the property had intermittent production. From public information, approximately 100 million ounces of silver and 200,000 ounces of gold were cumulatively produced from the property. Since 1930, no significant work has been completed on the property.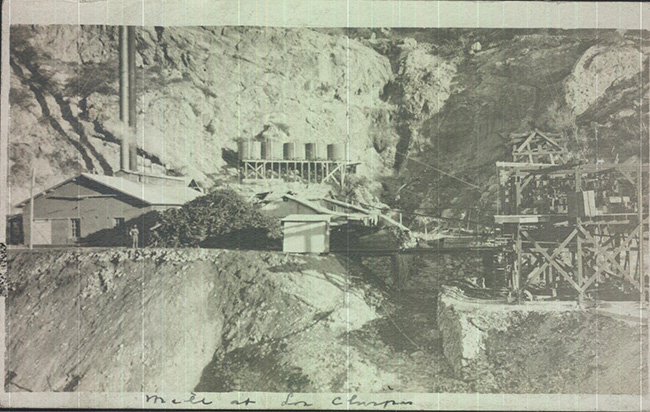 During the early 1980s, a local Mexican company reprocessed old waste and tailings dumps from Las Chispas. Processing was by vat leaching with no production records available.
Geology
Geologically, the Las Chispas property consists of a Late Cretaceous – Early Tertiary low sulfidation epithermal system. Host rocks are volcanic tuffs, rhyolites, agglomerates and rhyolite breccias. Andesite dykes are noted in underground workings sub-parallel to mineralized structures.
The Las Chispas Mine is known for its world-class silver mineral specimens including polybasite, stephanite, native silver and pyrargyrite. Specimens are on display in private collections and museums worldwide.
Historical Production
Mineralization occurs in 0.5 to 5 metre wide veins with adjacent stockwork and breccias trending northwest- southeast for 1 to 1.5 kilometres. Depth from surface of known mineralization is estimated at 300 metres. Main veins dip 55 to 85 degrees to the southwest. Fourteen epithermal veins have been previously defined on the property of which 3 have had notable production. The historical producing veins included Las Chispas, William Tell, and Babicanora. From public information, the Las Chispas mill production between 1908 through 1911 was approximately 25,000 tonnes grading 35 gpt gold and 4,500 gpt silver totalling an estimated 25,000 ounces of gold and 3.2 million ounces of silver. Several kilometres of underground workings exist on the property and are partially accessible.
Exploration Programs
For the remainder of 2018, the Company will continue the Phase III drilling up to Q1, 2019, which will focus on expansion and infill drill holes. Drilling priorities over the next six months are:
Potential for Babicanora Norte Vein high-grade expansion
Potential for Granaditas Vein high-grade expansion
Further definition drilling on the Ranch veins
Further definition drilling for unnamed veins between the Babicanora Main and Babicanora Norte veins
Additional definition drilling on Babicanora Sur Vein
Area 51 zone infill drilling for resource re-categorization
Initial infill drilling on several other high-grade veins
Initial drilling on several other identified vein (new targets) on the Las Chispas Property.
The Company intends to provide another updated resource estimate, with resource re-categorization, and deliver a PEA in Q1, 2019. There is no certainty that these Inferred Mineral Resources will be converted to the Measured and Indicated categories through further drilling.
| | | |
| --- | --- | --- |
| Click to enlarge | Click to enlarge | Click to enlarge |
N. Eric Fier, CPG, P.Eng., Chief Executive Officer & Director of the Company, is the Qualified Person under National Instrument 43-101, Standards of Disclosure for Mineral Projects, responsible for the preparation of the technical information included in this website and for supervision of field activities related to the Company projects.