Las Chispas
The Las Chispas property is located approximately 180 kilometres northeast of Hermosillo, Sonora, Mexico. The community of Arizpe (estimated population 2,000) is located approximately 11 kilometres to the north of the property. The property consists of 21 concessions totalling 1377.50 hectares.
History
In 1640, rich silver veins where discovered near Arizpe by soldiers under the command of Pedro de Perra. The property did not receive any notable exploration or production until the late 1800s. From 1880 to 1930, several mines on the property had intermittent production. From public information, approximately 100 million ounces of silver and 200,000 ounces of gold were cumulatively produced from the property. Since 1930, no significant work has been completed on the property.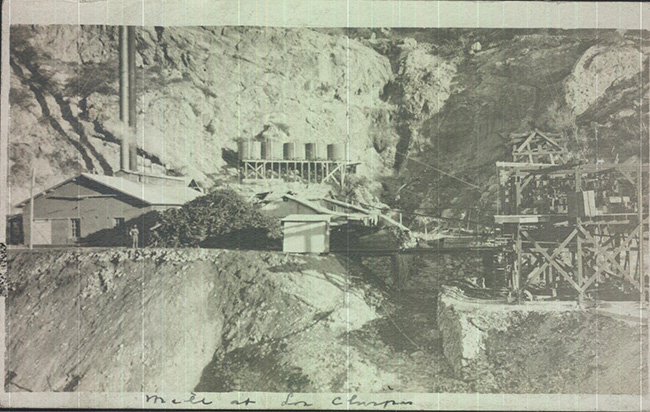 During the early 1980s, a local Mexican company reprocessed old waste and tailings dumps from Las Chispas. Processing was by vat leaching with no production records available.
Geology
Geologically, the Las Chispas property consists of a Late Cretaceous – Early Tertiary low sulfidation epithermal system. Host rocks are volcanic tuffs, rhyolites, agglomerates and rhyolite breccias. Andesite dykes are noted in underground workings sub-parallel to mineralized structures.
The Las Chispas Mine is known for its world-class silver mineral specimens including polybasite, stephanite, native silver and pyrargyrite. Specimens are on display in private collections and museums worldwide.
Historical Production
Mineralization occurs in 0.5 to 5 metre wide veins with adjacent stockwork and breccias trending northwest- southeast for 1 to 1.5 kilometres. Depth from surface of known mineralization is estimated at 300 metres. Main veins dip 55 to 85 degrees to the southwest. Fourteen epithermal veins have been previously defined on the property of which 3 have had notable production. The historical producing veins included Las Chispas, William Tell, and Babicanora. From public information, the Las Chispas mill production between 1908 through 1911 was approximately 25,000 tonnes grading 35 gpt gold and 4,500 gpt silver totalling an estimated 25,000 ounces of gold and 3.2 million ounces of silver. Several kilometres of underground workings exist on the property and are partially accessible.
Current Work Program
Phase II Exploration Program
The Company plans to continue with step out drilling on the Babicanora Vein, subsequent drilling on other potential mineralized structures on the Property and underground rehabilitation at the Las Chispas area. Approximately 6,000 to 8,000 metres of additional Phase II drilling is planned for the remaining part of 2017, using up to six drills this fall. Besides drilling and underground work, the Company is currently accessing the extension of the Babicanora Adit to improve drill access and expand exploration work, continuing district-wide mapping and sampling, initiating metallurgical work as well as drilling and trenching historic dumps. During early 2018, the Company plans to provide a maiden resource estimation for the Property.
Recent Drilling results produced an intercept in Hole BA17-07 of 4.8 metres grading 4.63 grams per tonne ("gpt") gold and 250.9 gpt silver or 598 gpt silver equivalent ("AgEq", based on 75 (Ag):1 (Au) and 100% metallurgical recovery). This hole intercepted the Babicanora Vein approximately 200 metres southeast of historic workings (see attached Figures). Also noteworthy is 3.7 metres grading 2.58 gpt gold and 332.6 gpt silver, or 526 gpt AgEq in Hole UB17-11 which intercepted the Babicanora Vein approximately 75 metres below historic workings.
For more details, please refer to the table under "Assays"
For more details, please refer to the table under "Assays" .
Underground access to the Babicanora vein is via a 230-metre long 4 by 4 metre horizontal adit, which was driven by a French company during the 1860s.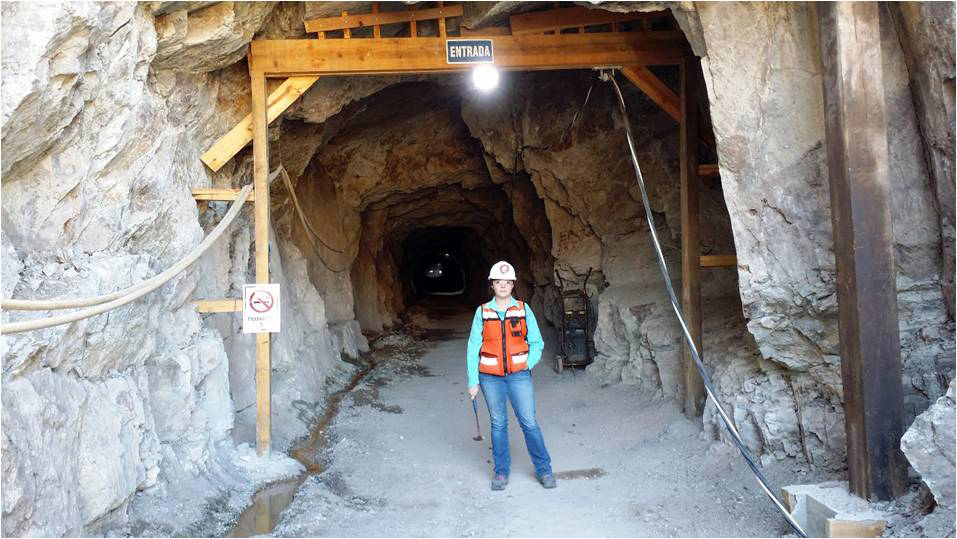 Other Exploration work
| | | |
| --- | --- | --- |
| Click to enlarge | Click to enlarge | Click to enlarge |
In addition to core drilling, other ongoing Phase ll exploration work at Las Chispas includes: finishing underground rehabilitation in H2 2017, underground channel sampling, possible extension and rehabilitation of the Babicanora adit for another 150 to 250 metres, expand surface mapping and sampling in the district, initial metallurgical work and auger drilling to determine accurate volumetrics and grade of historic dumps.
N. Eric Fier, CPG, P.Eng., President and Chief Executive Officer of the Company, is the Qualified Person under National Instrument 43-101, Standards of Disclosure for Mineral Projects, responsible for the preparation of the technical information included in this website and for supervision of field activities related to the Company projects.