Las Chispas
The Las Chispas property is located approximately 180 kilometres northeast of Hermosillo, Sonora, Mexico. The community of Arizpe (estimated population 2,000) is located approximately 12 kilometres to the north of the property. The property consists of 28 concessions totalling 1400.96 hectares. In early 2018, the Company announced an initial resource estimate for the Las Chispas property, and filed an independent NI 43-101 technical report disclosing the Las Chispas property resource estimate ( refer to Technical Report). Inferred Mineral Resources are estimated at 3.4 million tonnes grading 3.63 grams per tonne ("gpt") gold (or "Au") and 296 gpt silver (or "Ag"), or 568 gpt silver equivalent ("AgEq"; based on 75 (Ag):1 (Au) and 100% metallurgical recovery). The Inferred Resource Estimate contains 401,600 ounces gold and 32,675,600 ounces silver, or 62,826,100 ounces of AgEq, using a 150 gpt AgEq cut-off grade and minimum true vein width of 1.5 metres for in situ vein resources and a 100 gpt AgEq cut-off for surface stockpile resources ( refer to Mineral Resource). The results of the Company's Phase I and II exploration programs make up the components of the data used in the initial resource estimate. The resource estimate is focused on an estimated 3.5 kilometres of approximately 12 known kilometres of cumulative vein strike length in the district.
History
In 1640, rich silver veins where discovered near Arizpe by soldiers under the command of Pedro de Perra. The property did not receive any notable exploration or production until the late 1800s. From 1880 to 1930, several mines on the property had intermittent production. From public information, approximately 100 million ounces of silver and 200,000 ounces of gold were cumulatively produced from the property. Since 1930, no significant work has been completed on the property.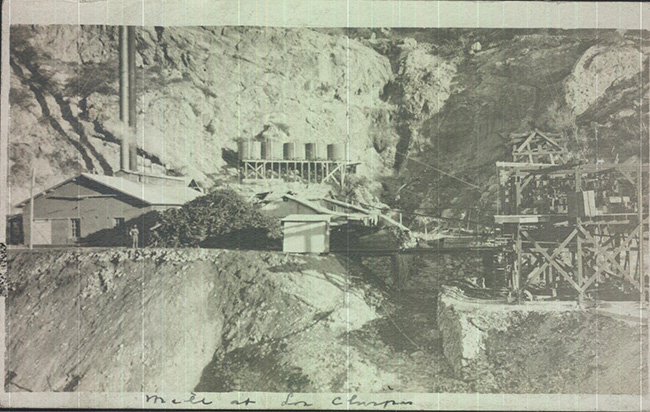 During the early 1980s, a local Mexican company reprocessed old waste and tailings dumps from Las Chispas. Processing was by vat leaching with no production records available.
Geology
Geologically, the Las Chispas property consists of a Late Cretaceous – Early Tertiary low sulfidation epithermal system. Host rocks are volcanic tuffs, rhyolites, agglomerates and rhyolite breccias. Andesite dykes are noted in underground workings sub-parallel to mineralized structures.
The Las Chispas Mine is known for its world-class silver mineral specimens including polybasite, stephanite, native silver and pyrargyrite. Specimens are on display in private collections and museums worldwide.
Historical Production
Mineralization occurs in 0.5 to 5 metre wide veins with adjacent stockwork and breccias trending northwest- southeast for 1 to 1.5 kilometres. Depth from surface of known mineralization is estimated at 300 metres. Main veins dip 55 to 85 degrees to the southwest. Fourteen epithermal veins have been previously defined on the property of which 3 have had notable production. The historical producing veins included Las Chispas, William Tell, and Babicanora. From public information, the Las Chispas mill production between 1908 through 1911 was approximately 25,000 tonnes grading 35 gpt gold and 4,500 gpt silver totalling an estimated 25,000 ounces of gold and 3.2 million ounces of silver. Several kilometres of underground workings exist on the property and are partially accessible.
Exploration Programs
For 2018, the Company is focused on the following targeted work programs:
District Scale Potential: There are now 30 identified epithermal veins on the Las Chispas property (previously reported as 23 veins). Of the 30 veins, the Company has only drilled tested 11 of these veins, which are the Babicanora, Babicanora Footwall, Babicanora Norte, Las Chispas, Giovanni, La Blanquita, William Tell, Varela, Granaditas, Luigi and Amethyst veins. Only five of these veins have been included in the maiden resource estimate for the Las Chispas property ( refer to the Technical Report and the Company's news releases dated April 24, 2018 and February 26, 2018).
Babicanora Vein The Company will continue to focus drilling on the Babicanora Vein to fully test the strike length and depth. Drills are focused on expanding mineralization for inclusion in the updated Resource Estimate.
Updated resource and PEA: As of to date, SilverCrest plans to drill an additional 3,000 to 5,000 metres, focusing on a planned updated resource estimate for Q3 and to complete an initial PEA in Q1 2019.
Step-out drilling of the Babicanora Norte Vein, has intersected additional high-grade silver-Gold mineralization (see figure below)
The most significant result for this release was returned from Hole BAN18-10, which intersected 2.2 metres (true width) grading 61.36 grams per tonne ("gpt") gold and 2,833.5 gpt silver, or 7,436 gpt silver equivalent ("AgEq", based on 75 (Ag):1 (Au) calculated using long-term silver and gold prices of US$18.50 per ounce silver and US$1,225 per ounce gold, with average metallurgical recoveries of 86.6% silver and 98.9% gold). Also noteworthy are Hole BAN18-26 at 1.4 metres grading 51.43 gpt gold and 2,838.0 gpt silver, or 6,695 gpt AgEq and Hole BAN18-27 at 2.1 metres grading 6.54 gpt gold and 795.3 gpt silver, or 1,286 gpt AgEq.
For more details, please refer to the table under "Assays"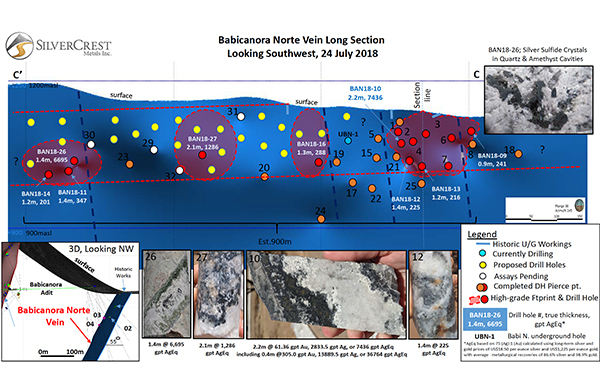 Click to enlarge

Other ongoing site work includes continued underground mapping and sampling on the Las Chispas Vein, testing drilled wells for site water and permitting for various additional exploration work.
Metallurgy
Metallurgical testwork, including geochemical analysis, was completed by SGS Mineral Services in Durango, Mexico. Criteria for testing included standard bottle rolls using the following common processing parameters;
85% passing 150 mesh,
pH 11-11.5,
48% solids, and
Retention time of 50 hours.
The following table summarizes initial metallurgical test results for Las Chispas:
Sample ID
Assay Head
Au g/t
Assay Head
Ag g/t
Head Calculated
Au g/t
Head Calculated
Ag g/t
% Recovery
Gold
% Recovery
Silver
Composite 1
3.61
180.0
3.66
203.4
99.2
77.8
Composite 2
6.19
500.0
5.63
552.7
98.6
85.9
Composite 3
2.95
274.0
2.15
295.0
99.1
96.2
Average
4.25
318.0
3.81
350.3
98.9
86.6
Note: all numbers are rounded.
For further information refer to News Release of October 30, 2017
| | | |
| --- | --- | --- |
| Click to enlarge | Click to enlarge | Click to enlarge |
N. Eric Fier, CPG, P.Eng., Chief Executive Officer & Director of the Company, is the Qualified Person under National Instrument 43-101, Standards of Disclosure for Mineral Projects, responsible for the preparation of the technical information included in this website and for supervision of field activities related to the Company projects.