Las Chispas
The Las Chispas property is located approximately 180 kilometres northeast of Hermosillo, Sonora, Mexico. The community of Arizpe (estimated population 2,000) is located approximately 12 kilometres to the north of the property. The property consists of 28 concessions totalling 1400.96 hectares. Currently SilverCrest has 8 drill rigs spinning and are testing discovery/ expansion/ infill targets. Currently only 21 of 45 known veins have been put towards our latest reserve estimate.
FS Economics
Highlights:
All dollar ($) figures are presented in US dollars unless otherwise stated. Base Case metal prices used in this analysis are $1,500 per gold ("Au") ounce ("oz") and $19.00 per silver ("Ag") oz. These prices are based on long-term consensus average prices. A silver equivalent ("AgEq")1 ratio of 86.9:1 (Au:Ag) applies throughout this news release to Mineral Resources and Reserves, production and all-in sustaining cost ("AISC") per oz. Net free cash flow and AISC are non-IFRS measures. Refer to the Non-IFRS measures section of this news release.
Robust Economics – The Feasibility Study considers a 1,250 tonne-per-day ("tpd") operation, with an initial mine life of 8.5 years. On an after-tax basis, Las Chispas generates a Base Case NPV(5%) of $486.3 million ("M"), IRR of 52%, and a payback period of 1.0 year. Using spot prices on the effective date of the Technical Report ($1,946/oz Au and $27.36/oz Ag) the after-tax NPV(5%) is $802.5 M, IRR is 74% and payback period is 0.7 year.
High-Grade Updated Mineral Resource and Initial Reserve Estimate – Initial Proven and Probable Reserves (3.35 M tonnes, grading 4.81 gpt Au and 461 gpt Ag, or 879 gpt AgEq) total 94.7 Moz AgEq (Table 3). These estimates place Las Chispas amongst the highest-grade primary silver projects globally2. The mine plan excludes Inferred Resources (1.2 M tonnes grading 745 gpt AgEq totaling 29.7 M oz AgEq), which includes the recently discovered high-grade Babi Vista Vein Splay ("BAVS") (211,400 tonnes grading 2,039 gpt AgEq totaling 13.9 Moz AgEq). Expansion and infill drilling for BAVS is underway and targeted to be included in a revised Mineral Resource and Reserve update in 2022.
Enhanced Near Term Production Profile – The Feasibility Study outlines average annual production of 12.4 Moz AgEq from 2023 through 2029, with net free cash flow beginning in 2023. Production will benefit from improved metallurgical recoveries for Au and Ag of 97.6% and 94.3%, respectively. This compares to 94.4% for Au and 89.9% for Ag reported in the Preliminary Economic Assessment ("PEA"), titled, "Technical Report and Mineral Resource Estimate for the Las Chispas Property, Sonora, Mexico", effective date of May 15, 2019, as amended July 19, 2019. Commissioning of the processing plant is targeted for Q2 2022 with ramp-up through H2 2022. It is anticipated that SilverCrest will have accumulated 8 months (~300,000 tonnes) of mineralized material on surface when the processing plant is expected to reach nameplate capacity of 1,250 tpd, providing flexibility in the early stages of production.
Lowest Quartile AISC – Average project-level life of mine ("LOM") AISC of $7.07/oz AgEq, and $6.68/oz AgEq over seven (7) full years of production, positions Las Chispas amongst the lowest quartile AISC globally3.
Strong Capital Position, Formal Construction Decision – With the completion of the Feasibility Study, SilverCrest's Board of Directors has formally approved construction of the Project. The Company currently has $125 M in cash as of January 31, 2021 and $90 M currently available under its credit facility. Orders for critical long lead items have been placed and all permits required to begin process plant construction are in hand.
Opportunities to Grow and Optimize – Given that Las Chispas has been advanced through the Feasibility Study stage within only five (5) years of its discovery, numerous opportunities remain for growth and optimization. The most significant opportunities are the potential to expand and convert Mineral Resources, particularly for BAVS, Granaditas, Babi Vista and Babicanora Norte veins, and the El Muerto Zone, all of which are close to the planned underground development. Other notable opportunities include optimization of the LOM grade profile and potential acceleration of the mine ramp-up.
| | |
| --- | --- |
| | Base Case |
| AISC ($/oz AgEq) | $7.07 |
| After-tax NPV (5%) (US$ M) | 486.3 |
| IRR | 52% |
| Payback Period (yrs) | 1.0 |
| Tonnes Processed (k) | 3,351.2 |
| Au Grade (gpt) | 4.81 |
| Ag Grade (gpt) | 461 |
| AgEq Grade (gpt) | 879 |
| Au Recovery (%) | 97.6% |
| Ag Recovery (%) | 94.3% |
| Au Production (koz) | 503.6 |
| Ag Production (Moz) | 46.6 |
| AgEq Production (Moz) | 90.4 |
| Total Revenue (US$ M) | 1,610.1 |
| Total Operating Costs (US$ M) | 397.1 |
| Royalties (US$ M) | 88.6 |
| Taxes (US$ M) | 214.5 |
| Initial Capex (US$ M) | 137.3 |
| Sustaining Capex (US$ M) | 123.9 |
| Working Capital (US$ M) | 25.6 |
| Closure Costs (US$ M) | 3.4 |
| Cumulative Net Free Cash Flow (US$ M) | 656.4 |
---
1 AgEq is based on an Au:Ag ratio of 86.9:1 calculated using $1,410/oz Au and $16.60/oz Ag, with average metallurgical recoveries of 96% Au and 94% Ag.
2 Based on top 10 producing projects by 2019 silver production with public disclosure on a primary silver basis from S&P Market Intelligence.
3 Based on data from S&P Market Intelligence, comparing to forecasted 2020 AISC for silver producers using the following metal prices: gold: US$1,500/oz, silver: US$19.00/oz, lead: US$0.83/lb and zinc: US$1.03/lb).
Mineral Resource and Reserve Estimates
The Mineral Resource Estimates were prepared by Yungang Wu, P. Geo., and Eugene Puritch, P.Eng., from P&E Mining Consultants Inc. ("P&E") and are provided in Table 3. Estimates were completed for potential underground mining of in-situ vein deposits at the Las Chispas and Babicanora Areas and for surface extraction of stockpiles from historical and current operations. All drilling, surveying and assay databases were provided by SilverCrest including data up to the cut-off date of October 16, 2020. Full details for the Mineral Resource Estimate can be found in the Technical Report.
Table 3: Mineral Resource Estimate
Classification
Tonnes
Grade
Contained Metal
(k)
Au (gpt)
Ag

(gpt)

AgEq

(gpt)

Au

(koz)

Ag

(koz)

AgEq

(koz)

Babicanora Area
M+I
2,214.5
7.35
681
1,319
523.2
48,471
93,939
Las Chispas Area
Indicated
445.1
4.20
548
913
60.1
7,845
13,065
Total Undiluted Veins
M+I
2,659.6
6.82
659
1,251
583.3
56,316
107,004
Historic Stockpiles
Indicated
164.2
1.23
108
215
6.5
572
1,135
Total Veins +

Stockpiles

M+I
2,823.8
6.50
627
1,191
589.8
56,888
108,139
Babicanora Area
Inferred
861.6
5.47
409
884
151.6
11,325
24,496
Las Chispas Area
Inferred
378.4
1.80
272
428
21.9
3,308
5,209
Total Undiluted Veins
Inferred
1,240.0
4.35
367
745
173.4
14,634
29,705
Notes:
Mineral Resources that are not Mineral Reserves do not have demonstrated economic viability.
The estimate of Mineral Resources may be materially affected by environmental, permitting, legal, title, taxation, socio-political, marketing, or other relevant issues.
The Inferred Mineral Resource in this estimate has a lower level of confidence than that applied to an Indicated Mineral Resource and must not be converted to a Mineral Reserve. It can be reasonably expected that the majority of the Inferred Mineral Resource could be upgraded to an Indicated Mineral Resource with continued exploration.
The Mineral Resources in the Report were estimated using the 2019 CIM Estimation of Mineral Resources & Mineral Reserves Best Practice Guidelines and 2014 CIM Definition Standards for Mineral Resources & Mineral Reserves.
Historical mined areas were removed from the wireframes and block model.
AgEq is based on gold to silver ratio of 86.9:1 calculated using US$1,410/oz Au and US$16.60/oz Ag, with average metallurgical recoveries of 96% Au and 94% Ag using information available at the effective date of October 16, 2020.
Mineral Resources are inclusive of the Mineral Reserves.
All numbers are rounded.
The initial Mineral Reserve estimate was prepared by Carl Michaud, P.Eng., Underground Mining Engineer of G Mining Services Inc. ("GMS"), dated of January 4, 2021.
Table 4: Mineral Reserve Estimate
Classification
Tonnes
Grade
Contained Metal
(k)
Au

(gpt)

Ag

(gpt)

AgEq

(gpt)

Au

(koz)

Ag

(Moz)

AgEq

(Moz)

Total
Proven
336.5
6.21
552
1,091
67.1
6.0
11.8
Probable
3,014.7
4.65
451
855
451.0
43.7
82.9
Proven + Probable
3,351.2
4.81
461
879
518.1
49.7
94.7
Notes:
The Mineral Reserve is estimated using the 2019 CIM Estimation of Mineral Resources & Mineral Reserves Best Practice Guidelines and 2014 CIM Definition Standards for Mineral Resources & Mineral Reserves.
The Mineral Reserve is estimated with a variable COG which was calculated by vein width and economic and operating parameters.
A government gold royalty of 0.5% is included in the Mineral Reserve estimates.
The Mineral Reserve is estimated with a mining recovery of 95%.
History
In 1640, rich silver veins where discovered near Arizpe by soldiers under the command of Pedro de Perra. The property did not receive any notable exploration or production until the late 1800s. From 1880 to 1930, several mines on the property had intermittent production. From public information, approximately 100 million ounces of silver and 200,000 ounces of gold were cumulatively produced from the property. Since 1930, no significant work has been completed on the property.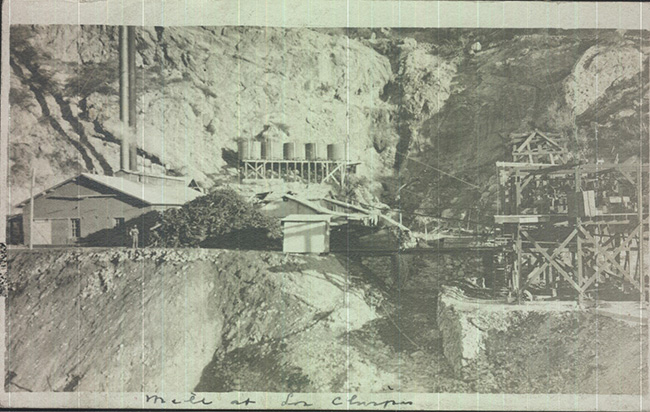 During the early 1980s, a local Mexican company reprocessed old waste and tailings dumps from Las Chispas. Processing was by vat leaching with no production records available.
Geology
Geologically, the Las Chispas property consists of a Late Cretaceous – Early Tertiary low sulfidation epithermal system. Host rocks are volcanic tuffs, rhyolites, agglomerates and rhyolite breccias. Andesite dykes are noted in underground workings sub-parallel to mineralized structures.
The Las Chispas Mine is known for its world-class silver mineral specimens including polybasite, stephanite, native silver and pyrargyrite. Specimens are on display in private collections and museums worldwide.
Historical Production
Mineralization occurs in 0.5 to 5 metre wide veins with adjacent stockwork and breccias trending northwest- southeast for 1 to 1.5 kilometres. Depth from surface of known mineralization is estimated at 300 metres. Main veins dip 55 to 85 degrees to the southwest. Fourteen epithermal veins have been previously defined on the property of which 3 have had notable production. The historical producing veins included Las Chispas, William Tell, and Babicanora. From public information, the Las Chispas mill production between 1908 through 1911 was approximately 25,000 tonnes grading 35 gpt gold and 4,500 gpt silver totalling an estimated 25,000 ounces of gold and 3.2 million ounces of silver. Several kilometres of underground workings exist on the property and are partially accessible.
Continued Development
Due to the impact that COVID-19 has had on the Company, the resource estimate is continuing at a slower pace, resulting in a schedule shift into Q4, 2020 for feasibility study completion. With this extension in the feasibility schedule, the Company plans to allocate extra time to;
Add further drill results beyond the March 1, 2020 assay cut-off date for resource estimation.
Optimize resource estimation, mine design and schedule with emphasis on frontend high-grade production including the Babi Vista Vein and Babi Norte SE extention;
Finalize site power selection to potentially reduce operating costs; and
Optimize the process gravity circuit for increased confidence in operations. Other ongoing feasibility work is nearing completion (June 2020) for the process facility design, capital costs and operating costs.
The Company also anticipates completing its Basic Engineering study as planned by the end of June 2020. The Company is fully financed to begin major construction, which provides for more flexibility in the schedule to secure long lead time items impacted by supply chain disruptions from COVID-19.
N. Eric Fier, CPG, P.Eng., Chief Executive Officer & Director of the Company, is the Qualified Person under National Instrument 43-101, Standards of Disclosure for Mineral Projects, responsible for the preparation of the technical information included in this website and for supervision of field activities related to the Company projects.