Las Chispas
The Las Chispas Operation is located approximately 180 kilometres northeast of Hermosillo, Sonora, Mexico. The community of Arizpe (estimated population 2,000) is located approximately 12 kilometres to the north of the property. The property consists of 28 concessions totalling 1400.96 hectares.
2023 Updated Technical Report Highlights
Robust Production Profile with Strong NPV of $549.9M at Base Case - The Report has confirmed strong economics for an eight-year operation generating average annual production of 57 thousand ("k") ounces ("oz")/year Au and 5.5 million ("M") oz/year Ag (10.0 Moz/year AgEq) during the first seven full years. Using a 5% discount rate and average gold and silver prices of $1,800/oz and $23.00/oz respectively as the Base Case, Las Chispas generates a post-tax net present value ("NPV (5%)") of $549.9M.
Strong Cash Flows, Debt Free, Healthy Balance Sheet - The Operation is estimated to generate average annual post-tax free cash flow of approximately $84.3M from 2023 to 2029 at the Base Case. SilverCrest has paid off 100% of its $90M debt since commercial production was announced in November 2022 and at the end of Q2, 2023 had accumulated a treasury assets1 balance of $59.0M.
Report Details Supported by Current Operational Performance - The Report is based on actual operating data from the mine and process plant, including cost models supported by actual operating costs, completion of more than 16 kilometres ("km") of underground development (January 2021 to December 2022) and recovered metal of 17.8 koz Au and 1.74 Moz Ag (3.2 Moz AgEq) since process plant startup in early June 2022 until the end of 2022.
Updated Mineral Reserve Estimate - The updated Proven and Probable Mineral Reserve Estimate of 78.6 Moz AgEq (3.4 Mt grading 4.08 gpt Au and 395 gpt Ag, or 719 gpt AgEq) is a 13% reduction in AgEg ounces from the 2021 FS. This reduction incorporates the updated gold to silver ratio, updated modelling for narrower and more widely dispersed veins than originally modelled, increase in cut-off grades due to increased industry costs, revised geotechnical standards, and mining method changes.
Simplified Underground Production Plan - The updated production plan reaches slightly above 1,200 tonnes per day ("tpd") in 2026 and is largely supported by long-hole stoping (77%) with the balance being cut and fill (17%), and resue (6%). This approach significantly simplifies the mine plan through the reduction of working faces, equipment and labour, while also addressing safety and productivity issues. The use of this bulk mining method, when combined with narrower veins, has led to a reduction in LOM mined grade of approximately 18%.
Metallurgical Recoveries Improved - The Report is based on actual achieved process plant metallurgical recoveries of an estimated 98.0% Au and 97.0% Ag, both improved from the recoveries of 97.6% Au and 94.3% Ag estimated in the 2021 FS.
Higher Sustaining Capital Reflects Increased Costs and Expanded Mine Footprint - LOM sustaining capital of $219.9M has increased by 77.5% compared to the 2021 FS as development unit costs and the amount of infrastructure required increased due to the expanded mine footprint.
Lowest Quartile2 AISC Remains - The Report estimates all-in sustaining costs3 ("AISC") to average $11.98/AgEq payable oz over the LOM, exclusive of corporate level G&A and sustaining exploration costs. For the period of H2, 2023 through 2024, the AISC is estimated to average approximately $13.50/AgEq payable oz which is the highest cost period in the LOM due to an accelerated spend in sustaining capital to support ramp-up of mine throughput.
Immediate and Longer-Term Growth Opportunities - Immediate growth will be targeted through a $10M exploration program focused on targeting 40% of the updated Inferred Mineral Resource (1.3 Mt grading 566 gpt AgEq or 24.1 Moz AgEq) for conversion to M&I Mineral Resources for future Mineral Reserve consideration. The focus is on higher grade Mineral Reserve replacement targets proximal to current and planned infrastructure. Earlier stage exploration opportunities at Las Chispas will be pursued in parallel.
1 Treasury assets is a Non-IFRS measure. See "Non-IFRS Measures" section in the Company's July 31, 2023 news release. At the end of Q2, 2023, treasury assets include cash of $53.4M and bullion purchases held at current market value of $5.6M.
2 Source: Company Reports, S&P Global Market Intelligence, FactSet, Analyst Estimates.
3AISC is a Non-IFRS measure. See "Non-IFRS Measures" section in the Company's July 31, 2023 news release.
Updated Technical Report Overview
Las Chispas Updated Technical Report Summary as of Jan. 1, 2023
Average Process Plant Throughput (2023 to 2029) (tpd)
1,200
Mine Life (years)
8.0
Average Gold Process Plant Head Grade (gpt Au)
4.02
Average Silver Process Plant Head Grade (gpt Ag)
396.1
Average Silver Equivalent Process Plant Head Grade (gpt AgEq)
716.1
Contained Gold in Mine Plan (koz Au)
422.7
Contained Silver in Mine Plan (koz Ag)
41,615.5
Contained Silver Equivalent in Mine Plan (koz AgEq)
75,227.5
Average Gold Metallurgical Recovery (% Au)
98.0
Average Silver Metallurgical Recovery (% Ag)
97.0
Payable Gold (koz Au)
421.6
Payable Silver (koz Ag)
41,005.5
Payable Silver Equivalent (koz AgEq)
74,525.4
Average Annual Production (2023 to 2029)
Gold (Au koz/yr)
57.0
Silver (Ag koz/yr)
5,503.5
Silver Equivalent (AgEq koz/yr)
10,036.0
Mining Cost ($/t mined)
108
Process Cost ($/t processed)
47
G&A Cost ($/t processed)
21
Total Operating Cost ($/t processed)
168
LOM Sustaining Capital Cost ($M)
219.9
Closure Costs ($M) (2030 to 2032)
6.8
Cash Costs (1) ($/oz AgEq – Payable) LOM
7.84
AISC (1) ($/oz AgEq – Payable) LOM – Mine Level
11.98
Au Price ($/oz)
1,800
Ag Price ($/oz)
23.00
Pre-Tax NPV (5%, $M)
706.5
Post-Tax NPV (5%, $M)
549.9
Undiscounted LOM net free cash flow(1) ($M)
654.1
LOM AISC Margin (%)
48%
Notes:
Cash costs, AISC and net free cash flows are Non-IFRS measures. See "Non-IFRS Measures" section in the Company's July 31, 2023 news release.
All numbers in table pertain to full LOM (2023-2030) unless otherwise stated. Numbers are rounded.
Reserve depleted by 3.4 Moz AgEq representing ore processed from July 1, 2022 to December 31, 2022.
Payable metal includes ounces sold from inventory.
Mine Level AISC does not include Corporate Level G&A, share-based compensation or exploration.
History
In 1640, rich silver veins where discovered near Arizpe by soldiers under the command of Pedro de Perra. The property did not receive any notable exploration or production until the late 1800s. From 1880 to 1930, several mines on the property had intermittent production. From public information, approximately 100 million ounces of silver and 200,000 ounces of gold were cumulatively produced from the property. Since 1930, no significant work has been completed on the property.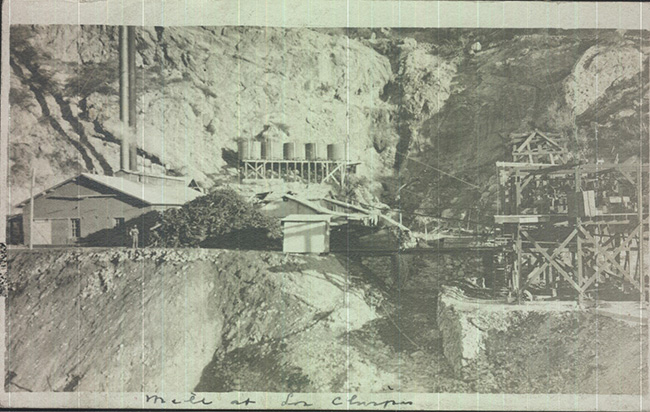 During the early 1980s, a local Mexican company reprocessed old waste and tailings dumps from Las Chispas. Processing was by vat leaching with no production records available.
Geology
Geologically, the Las Chispas property consists of a Late Cretaceous – Early Tertiary low sulfidation epithermal system. Host rocks are volcanic tuffs, rhyolites, agglomerates and rhyolite breccias. Andesite dykes are noted in underground workings sub-parallel to mineralized structures.
The Las Chispas Mine is known for its world-class silver mineral specimens including polybasite, stephanite, native silver and pyrargyrite. Specimens are on display in private collections and museums worldwide.
Historical Production
Mineralization occurs in 0.5 to 5 metre wide veins with adjacent stockwork and breccias trending northwest- southeast for 1 to 1.5 kilometres. Depth from surface of known mineralization is estimated at 300 metres. Main veins dip 55 to 85 degrees to the southwest. Fourteen epithermal veins have been previously defined on the property of which 3 have had notable production. The historical producing veins included Las Chispas, William Tell, and Babicanora. From public information, the Las Chispas mill production between 1908 through 1911 was approximately 25,000 tonnes grading 35 gpt gold and 4,500 gpt silver totalling an estimated 25,000 ounces of gold and 3.2 million ounces of silver. Several kilometres of underground workings exist on the property and are partially accessible.
N. Eric Fier, CPG, P.Eng., Chief Executive Officer & Director of the Company, is the Qualified Person under National Instrument 43-101, Standards of Disclosure for Mineral Projects, responsible for the preparation of the technical information included in this website and for supervision of field activities related to the Company projects.